Supercharge your

Production Rundown
The rundown tool for collaborative show planning, cueing, and directing.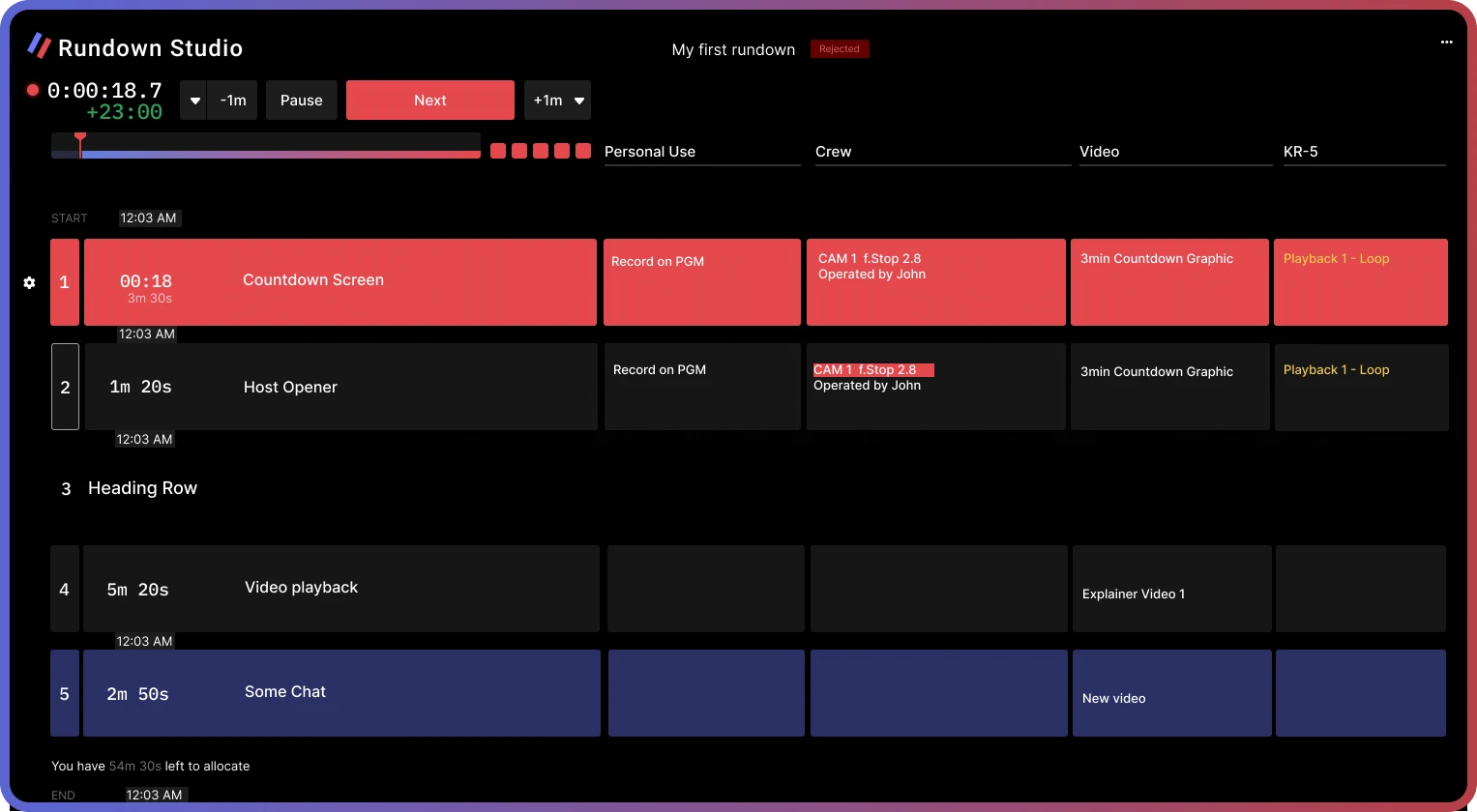 Cue Timing
Schedule each cue's runtime and Rundown Studio will auto calculate the start and end times for each cue and your show as a whole.
Show Planning
Plan your show to the last detail with custom columns and headings. Style and color them as you like for quick and easy reading during a show.
Collaboration
Invite your team members to collaborate and build the show rundown with you, or send them an output link to follow along in real-time as the show rolls.
TIME TRACKING
Spot-on cue timing
Never miss a cue again! Rundown Studio tracks all cue times automatically. This includes, start times, end times and current item run times. Any changes made to an item's time update automatically, so your show always stays on time.
CUSTOMIZATION
Fully customizable
Optimize your rundown with fully customizable content. Font colors, text highlighting, images uploads and even checklists! You have the flexibility to design your rundown in whatever way works best for you and your team.
ORGANIZATION
Keep track of multiple rundowns
Work on multiple rundowns at once and keep track of their show ready status.
COLLABORATION
Collaborate with team members
Add team members to your account and collaborate on all rundowns or just specific shows.
Simple, easy pricing
Find a plan that suits your production needs and budget.
Spark
$0 USD / year
No recurring charge
All the basic features for small shows. Get the hang of Rundown Studio!
Limited feature set

1 team member included
Sign up
Elevate
$600 USD / year
Excl. tax
All features activated to boost your production efficiency. Includes 3 team member seats for small teams.
Full features

3 team members included

Additional members: $10/member/mo
Get Elevate
Apex
$1,500 USD / year
Excl. tax
All features activated plus even more team member seats for large teams to collaborate.
Full features

10 team members included

Additional members: $5/member/mo
Get Apex
Full features
Add more rundowns to your account

Unlimited cues and columns per rundown

Invite team members for collaboration

Upload CSV for faster rundown building

Export PDF versions of your rundown
Frequently asked questions
What's your refund policy?
If you're unhappy with your purchase for any reason, contact us within 30 days and we'll refund you in full, no questions asked.
Can I get a refund for tax/VAT?
Yes, we offer VAT refunds for any European country and recognize organizations with tax exemptions. To avoid paying VAT in the first place, during the payment process make sure to enter your company details and VAT number. Alternatively, once you purchase a subscription or license you can request a refund directly at our payment provider's page. Head to https://paddle.net to contact Paddle via their chatbox.